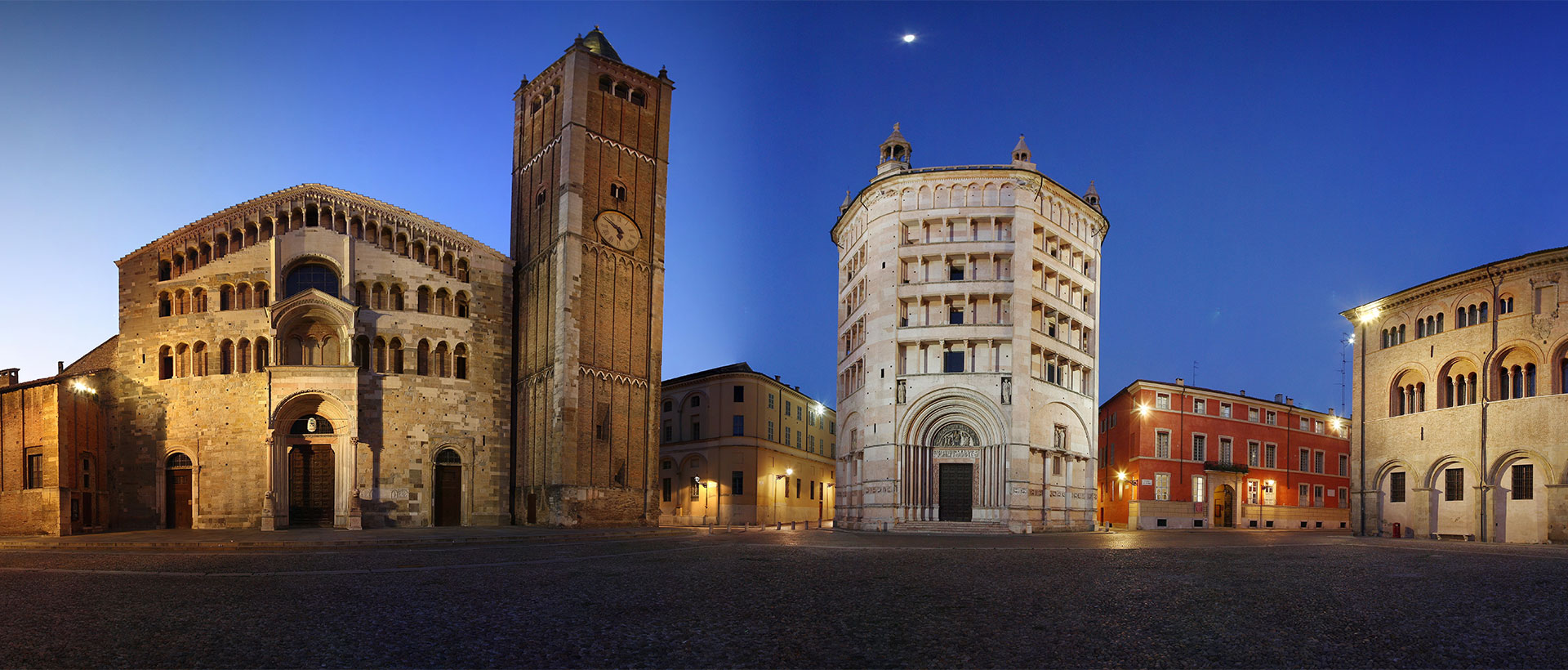 Visit Parma city: the Cathedral, the Baptistery, Glauco Lombardi Museum, Farnese Theatre , Pilotta complex, Steccata Church. For some hours or some days, let yourself be enchanted by the historic and cultural patrimony of our city. Follow the enchanting itinerary through the suggestions of the Pilotta Palace: Farnese Theatre on the first floor, the Palatina Library, the Bodoni Museum, the Archeological Museum and the National Gallery. Inside the Gallery, it is possible to admire the collection of works by Italian and foreign artists, as well as the artworks by Correggio and Parmigianino. Walking down the centre streets it is possible to discover the marvels of the Cathedral, the Baptistery, Saint John Church and Steccata Church.
Castle Tour: castles, fortresses, royal palaces and manor houses will offer you a travel through the mysteries of the different ages from the Middle Age to the Renaissance , from the 17th century Baroque to the Age of Enlightenment, from the romantic 19th century to the Belle Époque until the 20th century. In the fertile plain and among the green hills, you will be conquered by heroic exploits and love of some of the most illustrious Italian dynasties: the stories of the Bourbons, Farnese, Landi, Pallavicino, Sforza, Lupi, Visconti, Malaspina, Rossi, Sanvitale up to Maria Luigia and Napoleon re-echo in their homes.
Wellness Tour: Parma territory is rich in thermal waters with precious healing properties. .The Baths of Monticelli, Salsomaggiore, Tabiano and Sant'Andrea Bagni, a few kilometers far from the city, are the ideal places to recover your wellness, immersed in an oasis of tranquility, surrounded by the gentle Emilian hills. And for those who want to stay in the city, swimming pools, comfort zones, health clubs and beauty centers offer relaxing breaks to ease tension and stress.

To travel between reality and dream, among objects, the space and the time of an unprecedented collection: Museo Guatelli, Ozzano Taro, 15 km.
For golf lovers: Golf La Rocca, Sala Baganza, only 5 km.
For shopping days: Outlet Fidenza Village, 25 km.
For engine enthusiasts: you can race at Varano Circuit, 25 km. or head towards Ferrari Museum in Maranello, 80 km.
An opportunity for fashion and style lovers: Fashion Capital: Milan, 130 km.
For an escape to the beach: Versilia and 5 Terre, 130/150 km.
Not far away, another cultural parenthesis: Mantova: art city, 60 km., Sabbioneta, Gonzaga land, 40 km.
Origin: http://www.foodvalleytravel.com/